Private Property Towing
We offer a full line of service for property owners and managers in the greater Davis area. See map for coverage area.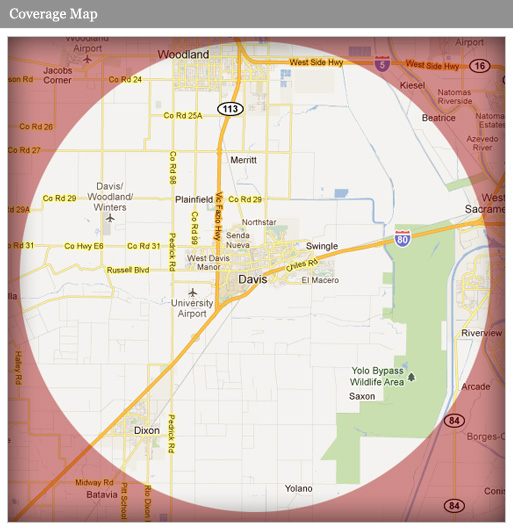 We can respond within 20 minutes or less.
We can remove abandoned vehicles, at no cost to the property owner or the management company, from residential and commercial properties.
We provide free signage, notices and permits:
We stock most generic sign, ie No Parking, Private Parking, Customer Parking Only, Resident Parking Only, Permit Parking Only. Custom ordered signs are usually available within one week. We provide Installation in most cases.
Pre-Made Generic Signs:
Examples of Custom Signs:
Call 530-297-3200 for your free consultation.
Helpful links:
Is your parking lot ADA compliant?
We recommend the services of California Paving Maintenance for pavement stripping and ADA compliance.
California Paving Maintenance
9390 Elder Creek Rd
Sacramento, CA 95829
916-381-8033
www.cpmamerica.com
For notices and permits
Peachtree Business Products
PO Box 13290
Atlanta, GA 30324
800-241-4623
www.pbp1.com
Patrol Services
Summit Security
9888 Niblick Drive Suite 4
Roseville, CA 95678
916-692-1447
888-294-1200
summitpatrol.com
Ready Response Security
2391 Arden Way Suite 218
Sacramento, CA 95825
916-333-4278
readyresponsesecurity.com
American Private Security Services
Aka: Metropolitan
7932 Sunset Avenue Suite G
Fair Oaks, CA 95628
800-983-1932
www.americanprivatesecurity.com